Bonding rabbits is not always an easy task.
It is not just a case of shoving them together and letting them get on with it – they need supervising in the early stages.
Some rabbits go together quite quickly, but you should set aside a few weeks to a month for the process for a relatively easy bonding.
A more difficult bonding can take months. It really depends upon the personalities of the rabbits involved and also how you manage the process.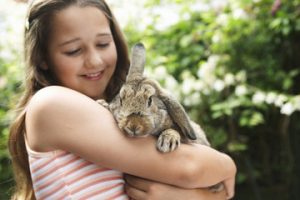 Either way, you will need separate accommodation for each of them in the beginning, if they can be close to each other (in separate hutches or runs) this can be helpful. The most successful bonding's are a success as they are not rushed.
It is very important to not rush bonding and let the new animal entering the home adjust to their new environment for at least a week before attempting the bonding process.
For the best chance of success and for long term happiness it is essential both parties are neutered. Although it is OK to bond a neutered male with an intact female, her hormonal cycle will probably cause a bit of a problem at times throughout their partnership.
Its also worth considering this for the long term health of the female as statistics show 80% of unspayed females contract ovarian cancer by the time they are 5 years old.
Before you embark on the process of bonding two rabbits, its important to understand a little bit about rabbit behaviour and to always keep this in mind throughout the process. The first and most important thing to remember is that rabbits NEED company of their own kind. It is essential to their mental and emotional health, which in turn impacts on their physical health and how much joy they will bring to you as a pet. Your rabbit will be so much happier when it has a bonded partner.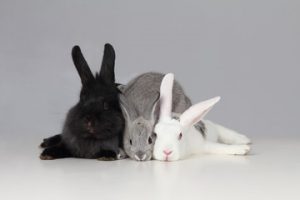 The second thing you must always bear in mind is that they are very territorial.
This means that no matter how desperate for company they are, if they feel like their territory is being invaded at any point in the process, they will attack the other rabbit.
This means that you have to manage their introduction to each other carefully to avoid any fights. This is where timing comes into play, on their own terms.
Thirdly, rabbits live in a hierarchical structure in the wild and this instinct still remains in the domestic rabbit. This means that during the bonding process the rabbits will need to work out who is the boss, a bit like the pecking order that other animals have.
As a result, you will probably see some circling and mounting (including the female mounting the male) without any regard for the fact they are neutered and not necessarily mounting the right end. This is normal for a rabbit and is to find dominance.